"Dianna puts her soul into her artwork. The love she has for decorative painting is evident in her work, for it shows in every brush stroke.
Her attention to detail is unreal. I also love the bracelets her husband creates. They're stylish, yet cool enough even for a teen. Keep up the great work. We will look forward to your many new creations.
– Mrs. Debbie Champion
---
"Dianna has a passion for life that is reflected in her art.  Through her painting and ceramics, she illustrates the beauty of nature in engaging and vibrant detail.  Every work contains a bit of herself.
Mark's creations provide a perfect complement."
Mrs. Jennifer G
---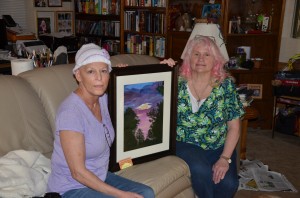 From Dianna's childhood in the mountains to the towering pines and cooling lakes of her adopted home in the Raleigh area, all the way to the beautiful sand dunes at the Outer Banks of North Carolina, her love of nature absolutely shines through into her photography and most especially in her oil paintings.  Dianna's eye for the vibrant colors of nature and her dedication to detail is that of a true and accomplished artist. Mark's hand-tied key fobs are such a wonderful form of art passed down from generation to generation.  Overall, Mr. & Mrs. Carter are quite the team of artists, sharing their love of art and their love for each other.
–Mrs. Peggy Conway